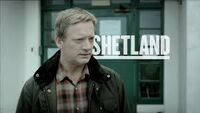 Shetland is a BBC Scotland crime drama series. The pilot aired on BBC One in 2013, and, on April 3, 2013, it was announced that Shetland had been given a full six part series.
The pilot for Shetland is based on the novel Red Bones by Ann Cleeves. The series follows Douglas Henshall as Detective Inspector Jimmy Perez as he and his team try to solve a string of murder cases set on the Shetland Islands.
Ad blocker interference detected!
Wikia is a free-to-use site that makes money from advertising. We have a modified experience for viewers using ad blockers

Wikia is not accessible if you've made further modifications. Remove the custom ad blocker rule(s) and the page will load as expected.